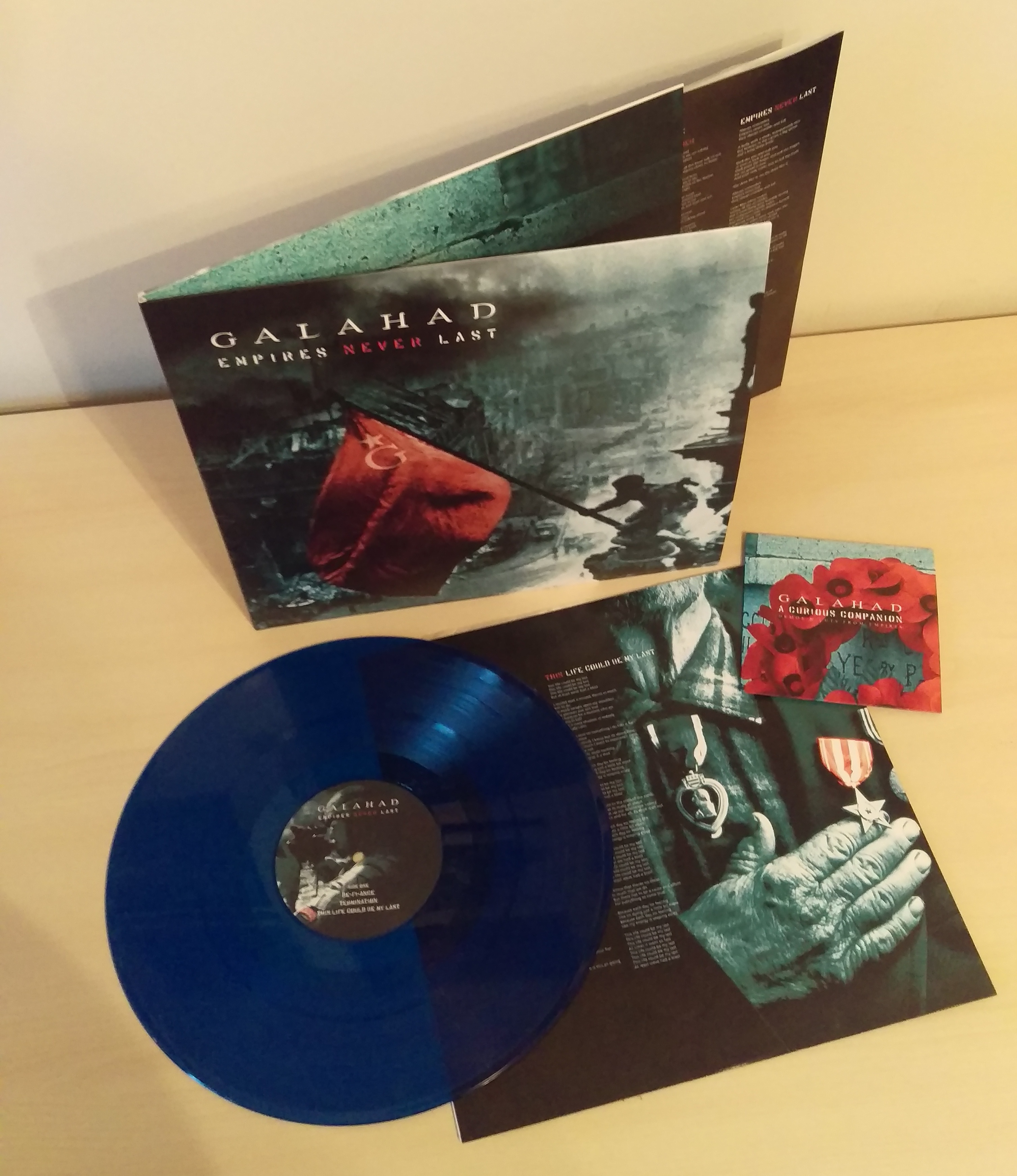 In 2007 Galahad released 'Empires Never Last', their sixth studio album and the first album recorded with Karl Groom (Threshold/Pendragon/Yes/Dragonforce etc.) at the controls and one which was to become a watershed in the history of the band. It was easily their heaviest, most muscular and guitar orientated album release at that point (although punctuated with occasional more sensitive musical flourishes) and as such rejuvenated the band, taking them in a fresh, more 'modern' sounding direction whilst along the way becoming one of their most successful releases both critically and in terms of sales.
Nearly a decade later and in order to celebrate ten years since the recording of this album Galahad are very proud and pleased to announce that 'Empires' is to be released in a limited edition double LP format in conjunction with our friends 'Oskar Productions' in Poland. There will also be 100 copies available only on 'blue' vinyl.
This double LP will also feature the added bonus of a brand new 'orchestral' version of the title track recorded especially for this release. The album will be pressed on heavy weight 180 gram vinyl and will come in a rather lovely gatefold sleeve, with artwork courtesy of renowned album designer Paul Tippett (It Bites, Frost* etc.).
'Empires' also features a few special guests including Karl Groom (Threshold) on guitar, Clive Nolan (Arena, Pendragon) and Tina Booth (Magenta) on vocals.
This rather sumptuous double LP release should be a real treat for existing Galahad followers as well as, hopefully, appealing to those interested in listening to modern sounding quality 'progressive' rock music.
Also, every 'Empires' LP ordered directly from our own merchandise page will come with a free CD copy of 'A Curious Companion – Demos & Cuts from Empires'', a collection of demo tracks and song ideas some of which were used on the final version of 'Empires Never Last' and some of which were not. This is the first time that this 'companion' album has been available in a hard copy format.
Please note that 'Empires' will be available to order directly from our merchandise page from Wednesday 28th September 2016. Orders will be sent out from Monday 3rd October onwards.
 Track listing: Side One
De-Fi-Ance
Termination
This Life Could Be My Last
Side Two
I Could Be God
Memories From An Africa Twin
Side Three
Sidewinder
Empires Never Last
Side Four
This Life Could Be My Last (Alternative version)
Termination (Alternative version)
Empires Never Last (Orchestral version)